Once your PCC Application package is ready, you can post the package to the BLS office in person or send it by Mail or Post. 
In this article, we will look at the BLS pick up and drop off Postal Service that is provided by BLS Canada on their website. Although the service is optional, it will save you so much time and hassle.
What is BLS Pick up and Drop off Service?
BLS provides this service so people applying for PCC can easily send and receive their documents. You can schedule a particular date and time for pick-up, and someone from Purolator (postal service) will come to your given address to take the parcel. 
Once your PCC application is processed, you will get your PCC card or document delivered to your given address. Let's see how it works.
Schedule BLS Pick up and Drop off
To use this service, first, open this link BLS PCC PICK-UP
Select the first option, 'PICK UP AND DROP OFF.' Click on Proceed button. 
You will get a form where you have to enter the pick-up and drop-off address details for your PPC application.
How to Fill BLS Pick up and Drop off Form
I will explain all the fields in this section about the form.
Number of Applicants – This is mostly 1. But you have more than 1 PCC package you can increase the number.
First Character of Postal Code – Enter the first digit of your Postal Code. For eg., if your Postal code is M2I4H3, you will enter M here.
After this, you have 2 sections in the form. The first one is for Pick Up Address and the second one is for Drop Off Address. 
If your pick-up and drop-off addresses are the same, then enter the same address. If you want your PCC to deliver a different address, then you can enter a different address.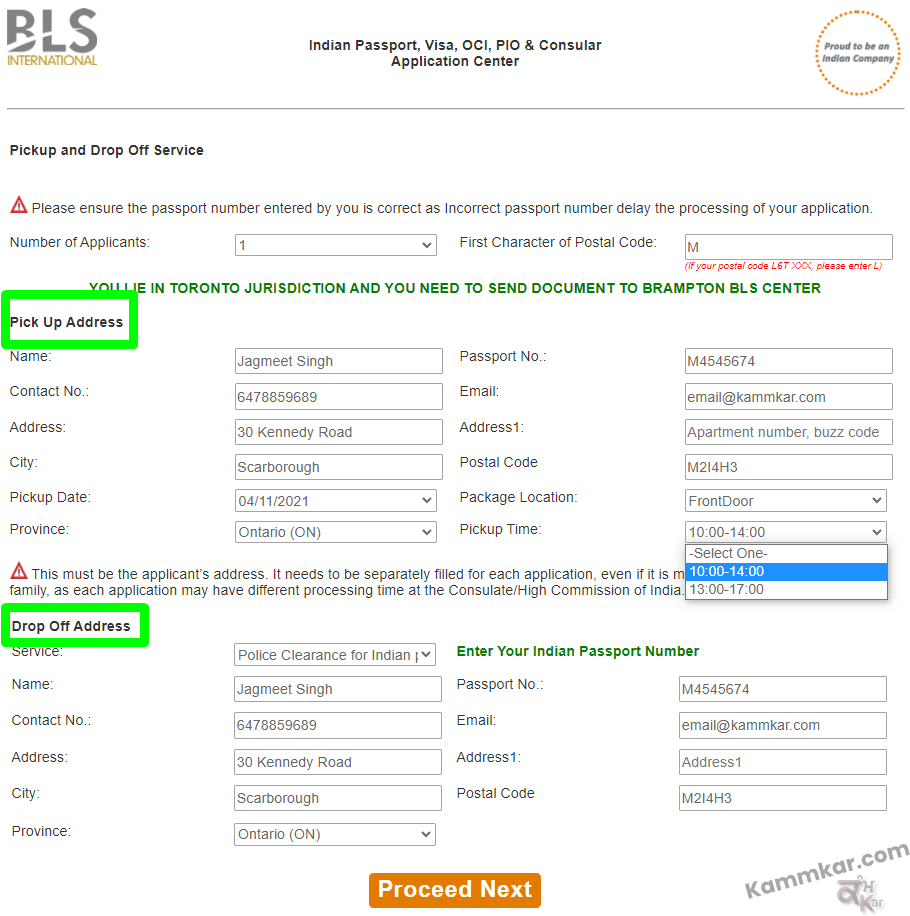 Enter your Name, Contact no, Address, City, Email Address, Full Postal Code, and Province. 
Passport No – Make sure you are entering the correct passport number in this field.
Pickup Date – This is when someone will come to your given address to pick up the PCC package. The form will provide you with 3 to 4 upcoming dates you can select according to your schedule.
Package Location – This option will give you a list of locations to choose from. If you are living in a basement or apartment, you can select the location according to that.
Pickup Time –  There is two option to select. One is from

10:00 am-2:00

pm, and the other is from

1:00 pm – 5:00 pm.
Most of the fields like name and address are the same as the Pickup address.
Service –  Police Clearance for Indian Passport Holders.
After filling in all the information, click on Proceed Next button

Payment for Pickup and DropOff
On this page, you will get the applicant details with delivery and pickup address. Also, you can see the total charges.
Make sure all the information is correct. Tick mark the conditions and click on PROCEED TO PAYMENT button.
Now you have to pay the fee by credit or debit card.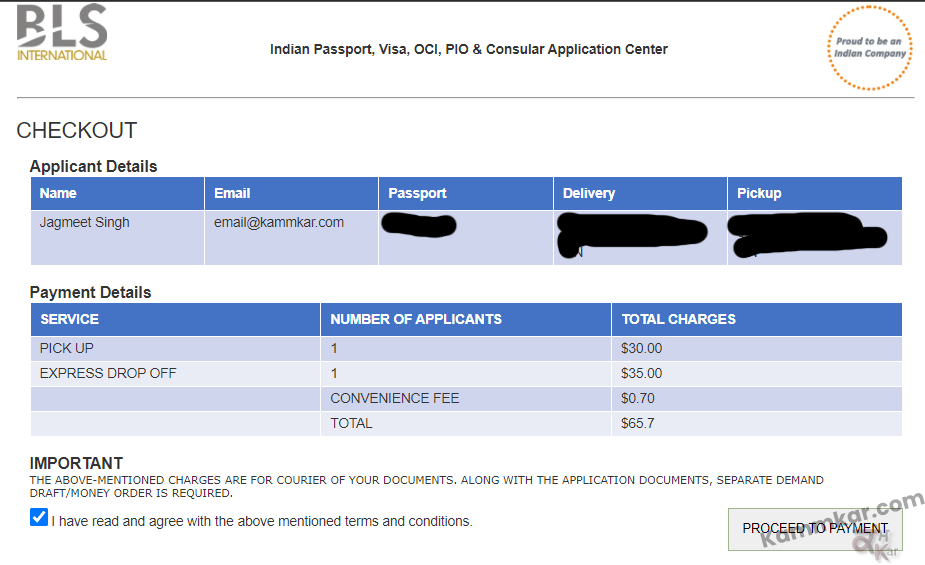 Once the payment is complete, you will get a link to your email to print the shipping label. Check the sample below. 
You need to print the shipping label and attach it to your PCC Package.
If you have a printer, you can print it at home or copy it on Pen Drive and go to any photocopy shop to get a printout.
The Postal Service Employee will come at your given address and time to pick up the package. You are all done.